Community Projects
Roadshow set to uncover region's future construction professionals
College and secondary school pupils across the region will soon have the chance to bag promising careers in construction - thanks to Barratt Homes.
The five-star housebuilder is embarking on a mammoth roadshow, designed to uncover the area's top talent.
"We are visiting several schools and colleges across Hampshire because we know there are many budding young construction professionals here waiting to be discovered,' said Barratt Homes' Anthony Dimmick.
"In the past, we have recruited apprentices to a range of specialisms across our business in this way - and I have no doubt this tour will be beneficial to us and to our future colleagues. It will be a great chance for them to find out more about what's involved in the work we do.
"There are so many opportunities for those seeking interesting and satisfying roles - from carpenters and bricklayers to marketeers and land surveyors. This is an incredibly diverse industry, offering something for everyone."
Barratt Homes will be visiting the following schools and colleges over the coming months:
Henry Beaufort School, Winchester - 19 September
Wyvern College, Fair Oak – 24 September
King's School, Winchester - 25 September
Mountbatten School, Romsey - 26 September
Wildern School, Hedge End – 1 October
Perins School, Alresford - 10 October
John Hanson, Andover - 16 October
Bohunt School, Liphook - 22 October
Isle of Wight College, Isle of Wight - 30 October
The Westgate School, Winchester - 13 December
Horndean College, Horndean - 29 January
"Whenever possible, we look to recruit from within the local community because we are building homes at a number of developments here - and we know there is plenty of potential construction talent among school and college students in Hampshire," added Anthony.
"We're very much looking forward to meeting potential colleagues soon - and showing them the array of benefits a career with Barratt Homes has to offer."
 To find out more about careers with Barratt Homes, visit barratthomes.co.uk or call 0330 057 6000.
Romsey development welcomes local apprentices


As the new academic year nears, a new development in Romsey is helping local apprentices to carve out careers in construction.
Barratt Homes has welcomed two new apprentices to its Kings Chase development in the town as it continues to work closely with Test Valley Borough Council to provide local training and development opportunities.
Jacob Glasspool, 16, has been taken on as a carpentry apprentice, having impressed Barratt Homes staff when he went to a careers fair at Mountbatten School. Jacob said: "I'm really excited to get started with my apprenticeship. When I spoke to the team from Barratt at the schools careers fair I knew an apprenticeship was definitely what I wanted to do and it's really good that I'm working on a new community where I live."
Also joining as a site management apprentice is Christopher Allen, another former Romsey School pupil. He had applied to several construction firms without success, something that Barratt Homes' community liaison manager, Anthony Dimmick, said he was surprised by. "He was excellent on interview; knowledgeable, polite and committed. I couldn't believe a company hadn't taken him on already so we leapt at the opportunity to give him experience here at Kings Chase as an apprentice."
Kings Chase, from Barratt Homes and David Wilson Homes, is bringing 275 homes to Romsey. As well as providing new homes for local people, the development is also providing opportunities for apprentices to work towards nationally-recognised qualifications.
It is working closely with Test Valley Borough Council through an employment and skills plan, which sets out how the developer and its sub-contractors will recruit and train local people and provide career advice in local schools.
Economic development portfolio holder, councillor David Drew, said: "It is great that Barratt Homes is working closely with local schools to offer careers advice and encourage young people into the sector as part of delivering the council's employment and skills plan for King's Chase.
"The council is working with a number of the major home-builders across the borough on plans for employment and enhancing skills for those taking on apprenticeships, work placements and other opportunities. We're very pleased that Barratt Homes is setting this example which we need to replicate throughout the borough."
It's estimated that Kings Chase alone will support up to 825 jobs as it's being built and homes sold.
To find out more about Kings Chase in Romsey visit
www.dwh.co.uk
or
www.barratthomes.co.uk
or call 0330 057 6000.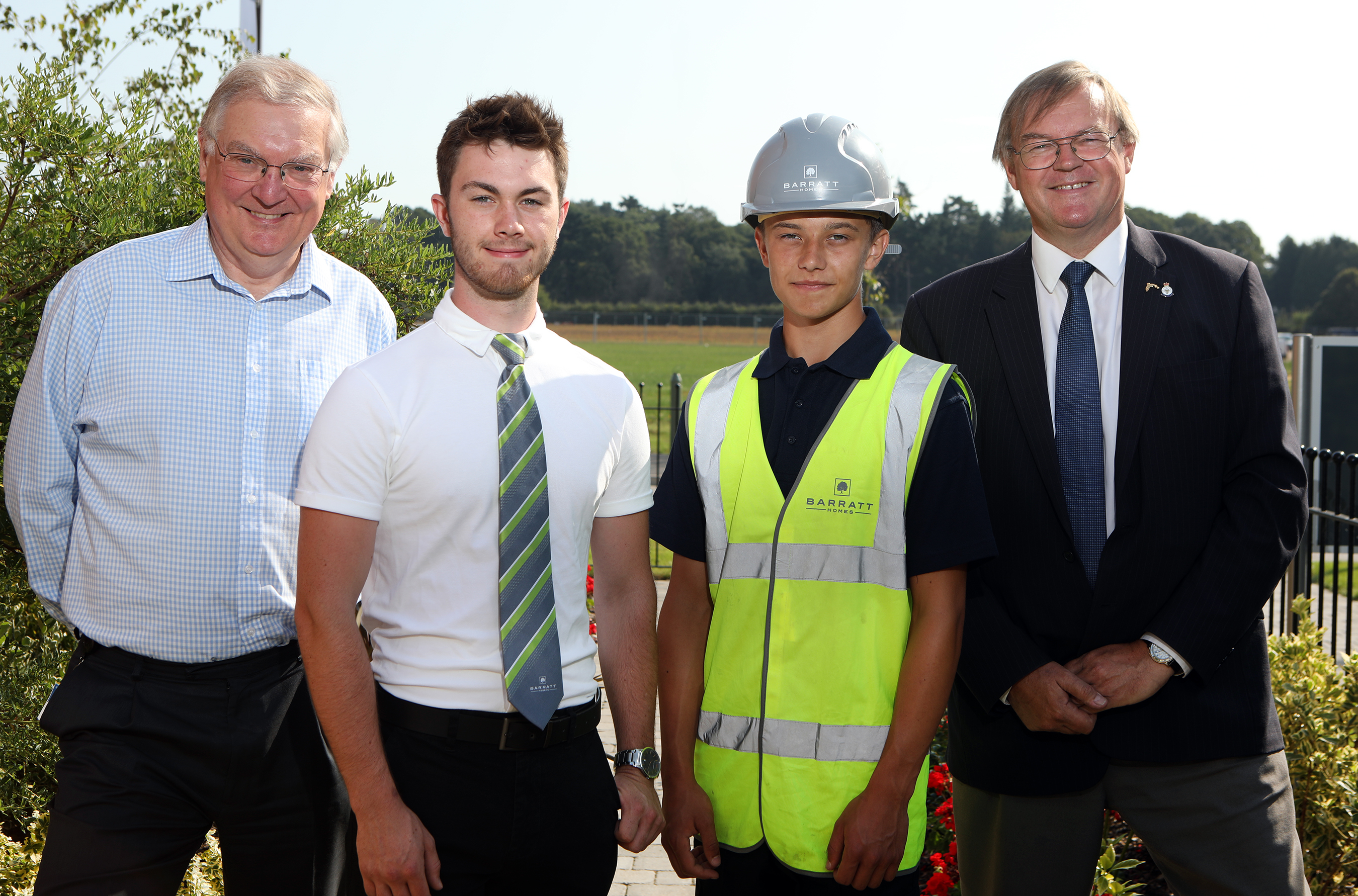 Barratt sponsors record breaking Romsey Relay Marathon for fourth year running
For the fourth year running Barratt Homes were the main sponsor of the Romsey Relay Marathon, based at the Broadlands Estate.
The unique event sees teams of up to 10 members take it in turn to run two laps of a 1.3-mile course before passing the baton to the next team member. The oldest competitor to date has been aged over 80, the youngest was eight years old, and the event caters for both able-bodied runners and those with disabilities.
This year's event saw more than 170 teams take part, raising up to £120,000 for local and national charities.
Barratt Homes, which is bringing new homes to Romsey through its Kings Chase development, sponsored the day and also fielded a team of 10 in the event.
Daniel Bateman, one of the Barratt Homes runners, said: "It was brilliant fun and such a great opportunity for us to meet with other members of the community here in Romsey. The Relay Marathon is fast becoming a firm favourite in the Romsey event calendar and it's our pleasure to support the event each year."
Event organiser, Charlie Daniel-Hobbs, added: "The Rotary Club of Romsey is so grateful to Barratt Homes for helping to make the event a great success again this year. We had record numbers of people taking part, which is great news as the event is not just a race, but a community-orientated day out and major fundraising opportunity for local charities.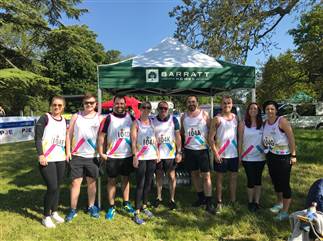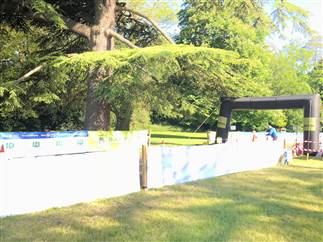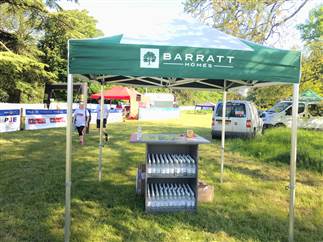 For more information, please visit www.romseymarathon.co.uk
Barratt Homes is still accepting sponsorship towards its chosen charity for the event – Wessex Cancer Trust.
To donate online visit https://www.justgiving.com/fundraising/barrattsouthamptonrelay
Barratt Homes proud to support the 2019 Rock Challenge®
Students of The Henry Beaufort School, Winchester, recently took part in the 2019 Rock Challenge, a Performing Arts competition for schools, colleges and youth groups that aspires to promote creativity, healthy lifestyles and education. It aims to show young people how they can achieve a natural 'high' without the use of tobacco, alcohol and other substances.
The 39 students who participated, seeing the project through from cenception to delivery, won the Student Leadership Award for their school, along with further awards for Set Design and Function, Stage Use, Visual Enhancement, Lighting, Entertainment, Concept and Performance Skill, and secured Third Place overall in the 2019 Rock Challenge. The expertly choreographed routine explored the mental health issues experienced by young people and expressed the message that "it's ok not to be ok". The full brief for their performance read:
'Words will not define me. Every day I journey forwards. In the chaos of the world it's easy to forget that we are human. Society tells us how to feel and how to be. But what if society is wrong? I cannot change who I am and if I could? I wouldn't. I will fight the words that chain me and the oppressors in my head.'
For the School's own News bulletin on the subject, including a video of the performance, click here.
KidsOut Centre transformed by Barratt Homes volunteers 
Each year more than 20,000 children flee domestic abuse to seek sanctuary in refuge. Typically leaving home with only the clothes on their back, these children have experienced physical, emotional, and even sexual abuse and arrive at refuge with nothing. In collaboration with Women's Aid, partner charities and corporate supporters, KidsOut works to remind these children and thousands of others living with disadvantages what it is like to be children and just have fun.
Barratt Southampton have supported Kidsout for just over 6 years hosting an Question of Sport Gala Dinner. Over 400 people from Hampshire based companies attend a night of fun and fundraising. Over the past 6 years the division has rasied over £300,000 for the charity and also arranged charityble days for local children.
Just recently representatives from the division, along with some of the five star house builder's sub-contractors, helped transform an outdoor area at Southampton's KidsOut centre.
The team of 14 - from Barratt Homes, Mackoy Ltd, Portsmouth Carpentry and Borderland Fencing - spent the day at the charity's local centre, to create a safe and enjoyable space for disadvantaged children. The work included putting in new decking, fencing, astro turf and a shed, as well as landscaping and site clearance.
"As an established member of the Southampton community, we're always on the lookout for worthy local causes to support," said one of the volunteer gardeners, Barratt Homes Southampton managing director, Jon Green. "KidsOut is a vital local resource - working to remind children and thousands of others living with disadvantages what it is like to just have fun. It was a tiring day and we all had a few ach-ing bones, but it was an absolute pleasure doing what we could to help."
Michael Mayock, managing director of Mackoy, added: "What an amazing day working with Barratt Homes and other fantastic subcontractors. A few aches today after working on the tools with the other directors who grafted all day. We're proud to be helping with KidsOut. It's been a great effort and final result for the centre in Southampton - everything ran like clock-work."
An employee of the KidsOut Centre said: "I literally do not know where to start in thanking everyone involved in the transformation of the garden. The children were so excited they looked like they were going to burst. All the women here love it and are so grateful. Volunteers like these truly make a difference to the lives of children who are forced to leave their family homes. Thank you, thank you, thank you to each and every person who took part."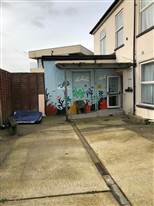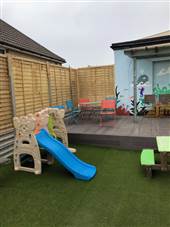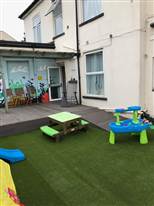 Barratt Homes Relay Marathon 2016
Sunday 17th April 2016
Broadlands Estate
The Romsey Relay Marathon is a community event held in the spring of each year, on the Broadlands Estate. Originally inspired as part of the Olympic Legacy, The Relay Marathon is a unique event, open to the whole community, raising both funds and awareness for local charities and good causes of your choice. 
Please click here for more details.
Barratt Homes are proud sponsors of 10th Romsey Scout Groups annual firework event
To view the press article for the Romsey Advertiser please click here. 
To view the press article for the West Hampshire Observer please click here.
Work begins on new community facilities after ground-breaking ceremony in Felpham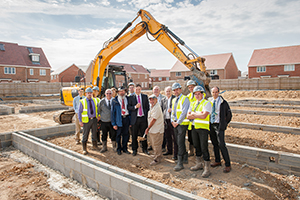 Residents in and around Felpham are to benefit from impressive new community facilities thanks to a special project by Homebuilders Barratt Homes and David Wilson Homes.
The five star housebuilders have started work on creating an all-encompassing community centre - with covered play and activity areas, meeting rooms, changing rooms and hospitality provisions. And locals will also benefit from an exciting new skate park. 
Councillors and other representatives from Arun District Council gathered with Barratt David Wilson employees to mark the beginning of the build at a ground-breaking ceremony. 
Work Experience leads to a permanent job
Thomas Talman recently contacted the Commercial Director asking for work experience, he is fully certificated City and Guilds L3 Diploma in bricklaying but had limited practical experience.
Anthony Dimmick our Community Liaison Officer, arranged to meet Thomas on site at Swanmore where he was inducted by Kieran Stanborough, signed a work experience placement contact with Barratt Homes and then commenced work experience with Quayside Brickwork. Thomas fitted in very well and impressed the gang he was working with, he has now been offered employment with Quayside.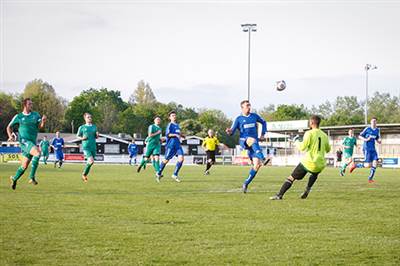 KICK 4 ALFIE
Barratt David Wilson Homes were very proud to run a charity football event to raise funds and awareness for such a good cause.
 Alfie is a happy 6 year old boy. He has a condition called X-linked  Hyper IgM Syndrome.  It's a  condition that affects the immune system and only occurs in males. Alfie is prone to catching recurrent infections that could be life threatening.  Alfie receives weekly infusions of Immunoglobulins and is also on permanent antibiotics. The permanent cure for his condition is either a Bone Marrow transplant or Cord Blood Stem Cell transplant from a matching donor. 
 Please click here to find out more about the event.
Apprentice success at The Oysters
There has been a number of successes with new apprentices at The Oysters firstly Mossey Elvin who lives locally is doing work experience with Portsmouth Carpentry with an  apprenticeship starting in September and secondly Jack Gardner who is a first year plumbing apprentice who resides in Hayling Island and went to Hayling College. In addition Dexter Smith has just completed his  L2 carpentry, with Jake Grant just completing his first year carpentry.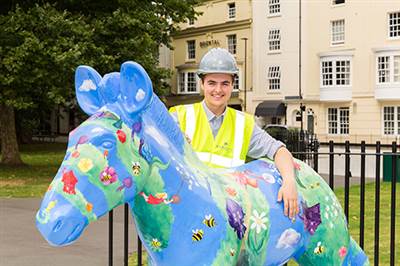 Marwells Zany Zebras
 From 16th July to 25th September, the city of Southampton is being invaded by a herd of awesome zebra sculptures, brightening up the pavements, enlivening the parks, adding vibrancy to the high street and, most importantly, smiles to thousands of visitors and residents.
Barratt Homes is supporting this event through the sponsorship of 'Henman the Zebra'.  Henman was designed by Rachel Blackwell and is located at Queens Park/Platform Road, Southampton.  With Henman you get the sense that you're spinning around and around in a beautiful country setting where the land and sky revolve in a way that is reminiscent of zebra stripes.  Look out for quirky buildings, mushroom houses, button flowers, buzzy bees and fairies floating away on dandelion clock seeds.
The photograph is of Dan Gravett our Apprentice Quantity Surveyor.  He started with Barratt Homes in 2014, aged 16.  He has completed his Btec L3 Quantity Surveying and will be studying HNC Quantity Surveying next academic year fully funded by Eastleigh College.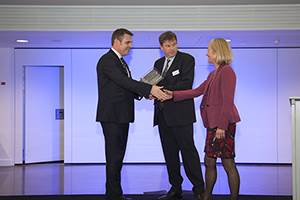 2016 Solent Design Awards 
The winners of the 2016 Solent Design Awards were announced at a Gala Awards Evening, which took place at The Spark, Southampton Solent University's stunning new teaching and learning building.
Tim Hill, managing director of Barratt Homes and David Wilson Homes in Southampton, said: "It is our absolute pleasure to support the Solent Design Awards 2016, which share our values about creating quality places that have a positive impact on their surroundings. As a company that is all about creating new communities we are particularly excited to be presenting the Quality Residential Places award".
Barratt David Wilson Homes
Were proud to be able to sponsor by way of a donation the Romsey Arts Leaflet.
Please click here to view the letter of thanks from the Town Council. 
Barratt Homes
Were proud to be able to sponsor by way of a donation The Romsey Abbey Primary School Summer Fete.
Please click here to view the letter of thanks from the School.